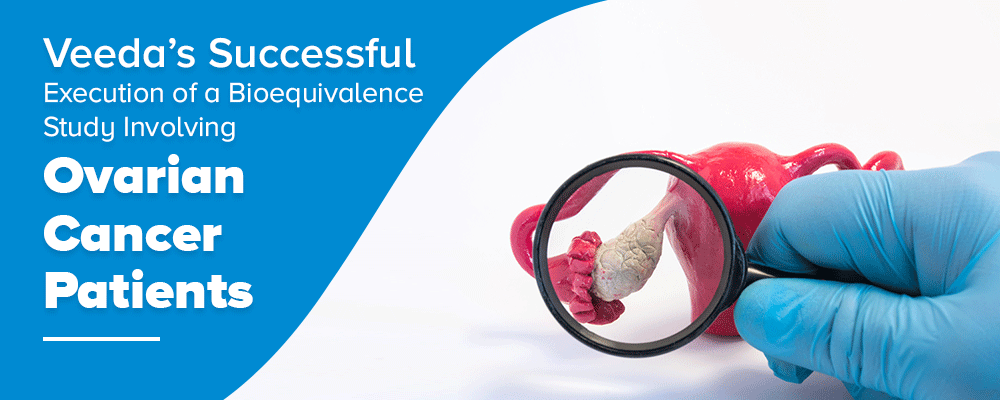 Veeda's Successful Execution of a Bioequivalence Study Involving Ovarian Cancer Patients
Introduction
Cancer is a deadly disease leading to the death of many individuals across the globe. Biotech and Pharmaceutical researchers are carrying out extensive studies to develop drugs to treat cancer. However, the current medications used in cancer treatment have many loopholes.
They are toxic, lack specificity, and have short half-lives. The difficulty in administering complex oncology molecules, along with the above hurdles, has led to side effects, non-compliance, and patient inconvenience of many current treatments for cancer.
Liposomes are Nano-sized drug delivery systems that have shown to be quite effective in improving the selectivity of cancer chemotherapeutic agents.
However, clinical trial experts face many challenges when designing a Bioequivalence (BE) study for generic oncology drugs. It includes selecting the study population, selecting the individual dose for patients, selecting the required study design (cross-over vs. steady-state design), and processing samples at investigator sites due to sampling uncertainty, high patient dropout rates, and stringent regulatory guidelines.
A bioequivalence study is generally conducted in healthy volunteers if the drug has shown a safety profile in a healthy population and is not a narrow therapeutic index drug.
However, the same is not ethically and medically acceptable in most anticancer drugs because of cytotoxicity in a healthy population. Moreover, the regulatory requirements also vary from region to region.
How to Design a Study for a Generic Oncology Product on Liposome Injection Involving Cancer Patients?
Study Overview
Veeda Clinical Research completed an open-label, randomized, two-treatment, two-period, two-sequence, single-dose, multicentric, fasting, cross-over bioequivalence study of Doxorubicin Hydrochloride Liposome Injection 2 mg/mL in ovarian cancer patients for an Indian based Sponsor Company towards submission to USFDA.
The study was completed within the stipulated timeframe with meticulous project management. In both periods, the subjects received a 50mg/m2 Single dose (intravenous infusion) of Doxorubicin Hydrochloride Liposome Injection 2 mg/mL (either test or reference product), according to the randomization schedule created before the trial, on the first day of the chemotherapy cycle.
The washout period was at least 28 days between each consecutive dosing period. Each cycle began with the collection of serial blood samples; a total of 25 blood samples were collected, with the last blood sample collected at 360.00 hours in each period.
Blood samples starting from 72.00 hours till 360.00 hours were collected on an ambulatory basis in each period to determine free and liposomal encapsulated doxorubicin plasma concentrations for PK analysis.
Subjects Inclusion and Exclusion Criteria
The study involved female patients between the age of 18-65 years who had ovarian cancer (confirmed through cytological and histopathological tests) and who were already receiving or scheduled to start therapy with the reference listed drug (RLD) or the reference standard product.
The four major inclusion criteria in this study were:
Subjects with Eastern Cooperative Oncology Group (ECOG) performance status ≤ 2
Subject with Left Ventricular Ejection Fraction ≥ 50%
Subjects with a life expectancy of at least three months are determined by checking liver, kidney, and bone marrow function.
Subjects who had recovered from minor (at least one week) and major (at least four weeks) surgery.
Women who were pregnant, lactating, or planning for a family were excluded from the study. A total of 18 parameters were judged under exclusion criteria.
Some of the major exclusion criteria were:
Impaired cardiac function with the occurrence of unstable angina/arrhythmia/ myocardial infarction/ Qtc prolongation/ coronary artery bypass graft surgery/ heart failure/ symptomatic peripheral vascular disease within the last six months
Known history of brain metastasis.
Pre-existing motor or sensory neurotoxicity of a severity ≥ grade 2 according to NCI criteria
Positive test results for hepatitis and HIV
Reporting and Handling of Adverse Events
The investigators reported six serious adverse events (SAE) during the entire study. Fever with diarrhea was reported in two subjects. Another two subjects were observed with Nausea, Vomiting, and weakness.
Fever due to hospitalization and Non-neutropenic fever with acute gastroenteritis were also found in one subject each. At the time of writing this article, all SAEs have been resolved after constant follow-ups with the patient.
During the study, hypersensitivity reaction due to Doxorubicin Hydrochloride Liposome Injection was avoided by administering Prophylactic Antiemetic and Dexamethasone Injection 8mg.
Conclusion
The study was successful as the test product showed bioequivalence with the reference product. The pharmacokinetic parameters like Cmax, AUC0-t, and AUC0-∞ were within the range of 80.00 to 125.00%.
Veeda Clinical Research provided end-to-end services in identifying and selecting the clinical trial sites, prepare and submit regulatory documents like protocol, ICF, CRF, and Clinical Study Report to drug regulatory authority on behalf of the sponsor company.
Trained and experienced nurses and investigators regularly monitored the oncology patients who participated in the study. The study was completed successfully with less patient dropouts, abiding by the principles of Good Clinical Practice.
Finally, the product was approved by USFDA. Experienced personnel, including the Principal and Clinical investigators team at different sites, the project management team, CRAs, phlebotomists, nurses, the medical writing team, and the bioanalytical team of Veeda Clinical Research, is responsible for successfully completing this clinical trial.