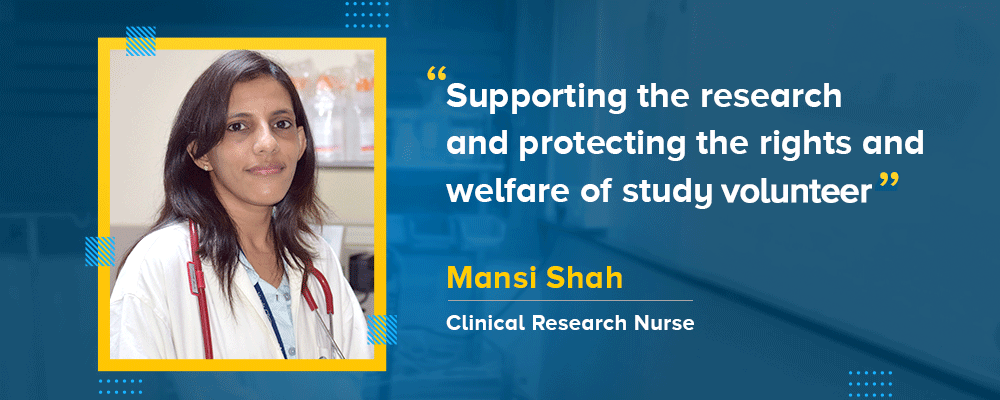 Clinical Research Nurse: Supporting the research & protecting the rights & welfare of study volunteer
Hi, I am Mansi Shah, a clinical research nurse with over 9 years of experience. I started my practice in 2013 at Sterling Hospital after completing my GNM nursing course. I have been working with Veeda since 2015. As a clinical research associate, my day mainly constitutes of assisting in research activities and ensuring volunteer safety, protection, and that volunteers are well supported throughout the research study
Even though every research is unique and every day is varied, I'm a seasoned Senior Research Associate and my duty is to be right alongside the research participants in the journey, from the day of admission to their dosing and till the time they get discharged. However, the most important task of a clinical research nurse involves determining consent of suitable volunteers, who consent to proceed with the study. I have to ensure that the volunteer understands what the research seeks to accomplish and the protocols associated with it. After educating the volunteers, I have to check her/his eligibility through OVIS and double-check it through routine screenings like blood and urine tests.
A usual day starts with a doctor assigning me my duty as per the study slots. I go to my designated location and mind the volunteers and check their vitals. I hope and work to minimize the risk of adverse events during the research, but the risk is always there. Identifying adverse events at the earliest possible time requires disciplined training and an in-depth understanding, thereby minimizing risk to research participants. With the nature of conducting novel research, the risk of adverse events is always there and the way we counteract it by having ICU wards with doctors and nurses on standby so that we can treat any complication with haste. Volunteer Safety is of the utmost importance to me and to Veeda and we take all the necessary measures, in terms of personnel skills and our infrastructure, to ensure the same. 
Besides taking care of research participants, documenting and recording information during clinical trials is the most important responsibility that a research nurse has. And we at Veeda ensure the Quality and reproducibility of data by taking meticulous approach and following highest level of integrity.
I am extremely passionate about my job as, I feel, I am a part of something that is larger than us & larger than my role. I wanted to be a part of it, as I get to be a part of the research that aims to test an experimental practice onto willing volunteers and see it becoming a part of standard practice, therefore, saving many lives to come in the future.