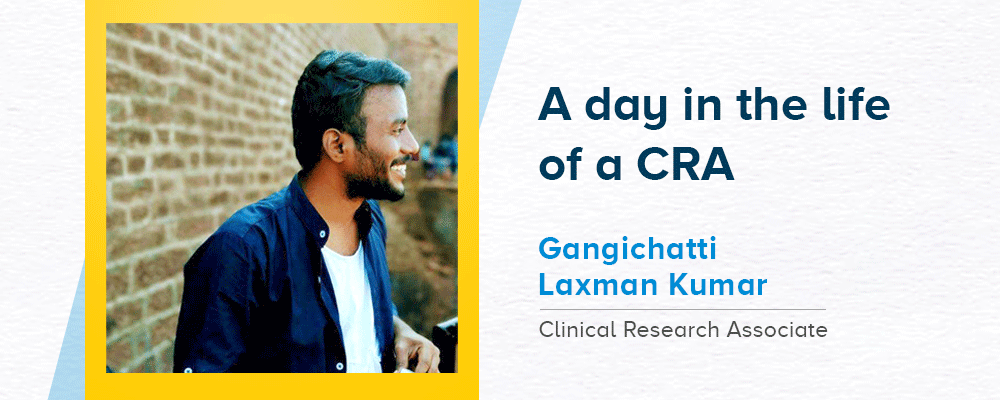 A day in the life of a CRA
Hi, I am Gangichatti Laxman Kumar & I work as Clinical Research Associate with Veeda, and this is how a day in my life looks like
Although I'm based out of Hyderabad, I might be visiting a site that's in a completely different part of the country by the time you'll read it.
This blog is supposed to walk you through a typical day in the life of a CRA.
A Clinical Research Associate plays a crucial role within the pharmaceutical business. A CRA is responsible for pre-study qualification visits, reviewing the study progress, checking the quality & accuracy of data collection, and compliance of patients to trial visits, and will ensure good clinical practices are maintained throughout the trial.
After successfully completing Pharma-D, I started working as a Safety Associate to the regulatory bodies; after that, I switched to clinical research operations and started working as a CRA in Oncology, Neurology Endocrinology, Cardiology, and General Medicine.
I have also worked in the department of BA/BE trials, where I experienced a multi-functioning team, and finally moved to Veeda Clinical Research, where I got the opportunity to work in BA/BE studies as well as Late Phase Trials in the field of Oncology.
Being a CRA, I have to spend a significant amount of time traveling to and fro to all the research sites that I have been assigned with, which are spread throughout the country, and I visit 4 to 5 sites in a day.
The very fact that I have to be constantly on the move, which happens to be a part of my job, adds a travel aspect into the mix that always remains fresh.
I believe Social interaction plays an important role in learning, and with this role, I get to interact with a lot of people, from site coordinators to doctors to project managers, which has proven to be quite effective in my cognitive learning.
My standard operating day comprises of monitoring and supervising data files as a part of the source data verification process to ensure that the site is entering data accurately and in a timely manner. The safety of a patient is of the utmost importance at Veeda, and I, along with my staff, regularly assess patient notes to ensure the safe undertaking of procedures as per the protocol.
Every role comes with its own set of challenges, and the role of a CRA is no different. Veeda offers workplace flexibility, which helps me deal with challenges calmly & efficiently.
Being a CRA, I practice a fast-paced lifestyle, but for me, the sense of accomplishment I get from tackling all those challenges is what makes me choose this line of profession every time.