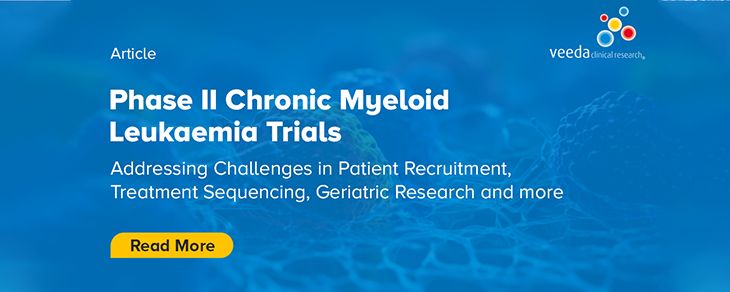 Disease Overview :
Global Scenario :
In developed nations, the prevalence of Chronic Myeloid Leukaemia (CML) is primarily concentrated among the elderly population, typically aged 60 and above. In contrast, in developing nations, the diagnosis of the disease occurs approximately ten years earlier, impacting individuals in their 50. It is the most common type of blood cancer.
Indian Scenario :
Chronic Myeloid Leukaemia (CML) is a clonal myeloproliferative disorder of a pluripotent stem cell. CML is the commonest adult leukaemia in India and the annual incidence ranges from 0.8– 2.2/100,000 population in males and 0.6– 1.6/100,000 population in females in India.
Out of the 250 CML Trials in active stage, 123 CML Trials worldwide are Phase II trials. 38 CML Trials are exclusively industry funded or are in collaboration with academia and small biopharmaceutical companies.
Why there is need to conduct CML Trials?
CML is the world's first cancer with specific genotype knowledge, which led to a rationally therapeutic schedule. Imatinib, a tyrosine kinase inhibitor (TKI), was approved by the FDA to treat CML in 2001. The discovery of the TKI-based treatment, changed the CML disease status from a lethal disease to a chronic disease, especially for patients in the chronic phase. There has been an apparent improvement in the survival of CML patients in high-income countries like the United States, France, and Japan. The disease burden of CML distinctly varies in different countries due to diverse opportunities for early-stage screening, novel drugs and medical resources.
Prevailing trends in CML Clinical Trials
Targeted Therapies :
The development of targeted therapies, such as tyrosine kinase inhibitors (TKIs), has been a significant trend in CML clinical trials. TKIs, such as Imatinib, Dasatinib, and Nilotinib, have revolutionized the treatment of CML by specifically targeting the abnormal BCR-ABL protein responsible for the disease.
Treatment-Free Remission (TFR) :
TFR is a growing area of interest in CML clinical trials. It focuses on the possibility of discontinuing TKI treatment in patients who achieve deep molecular responses, aiming to maintain disease control without the need for ongoing therapy.
Combination Therapies :
Investigating the effectiveness of combining different TKIs or combining TKIs with other agents is an ongoing trend in CML clinical trials. Combinations may enhance treatment response, overcome drug resistance, and improve long-term outcomes for patients.
History of Targeted Therapy for CML Trials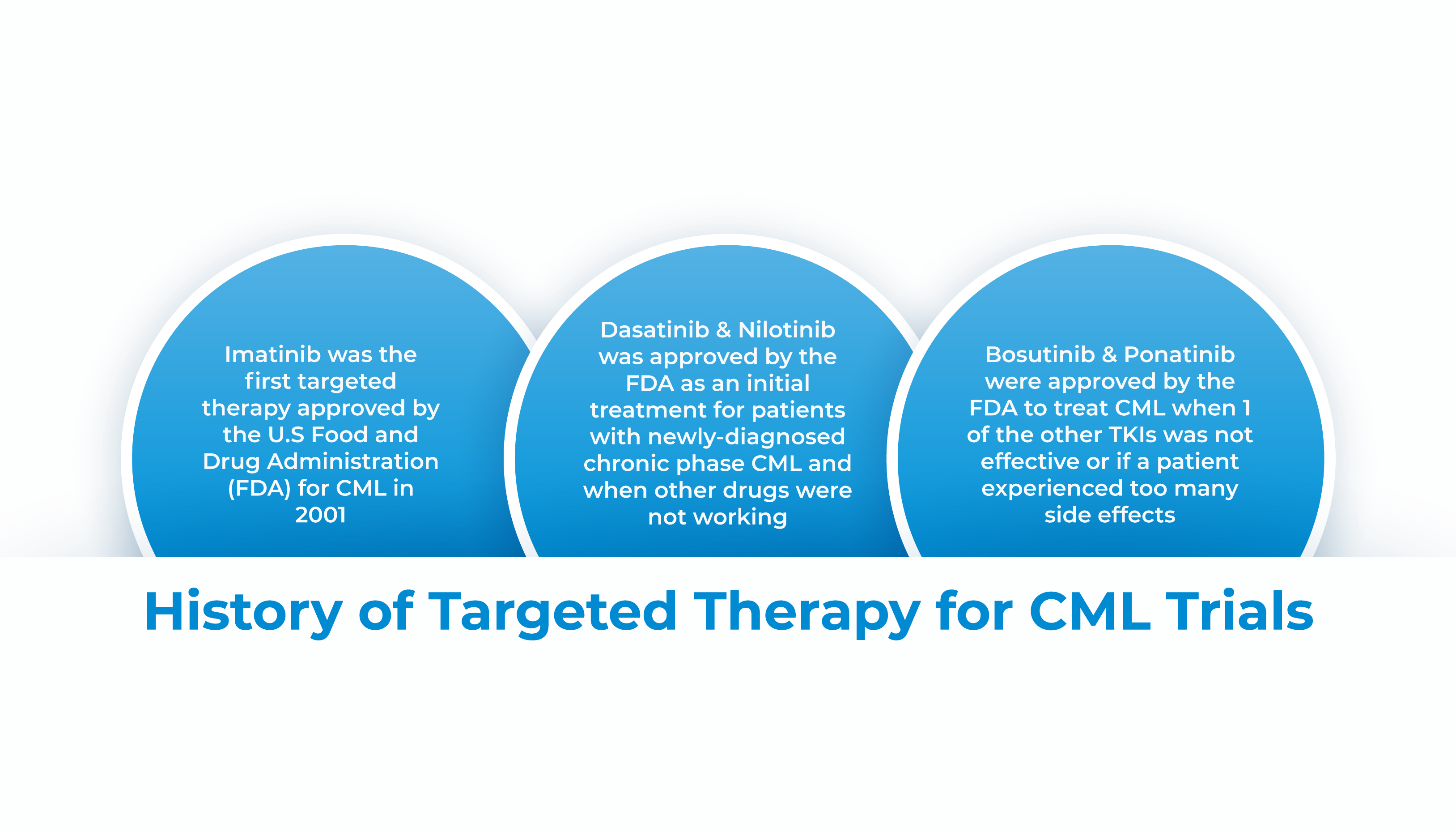 Key Challenges and Considerations: Operational & Clinical
The challenges in CML clinical trials are based on the four phases as mentioned below:
Chronic Phase
Accelerated Phase
Accelerated Phase with Patients with NO prior treatment
Accelerated Phase with Patients with prior treatment
CML clinical trials across different phases present obstacles for CROs in their operational and clinical activities. These challenges include communication and coordination with sponsors, complex protocols, site monitoring difficulties, patient population identification, geriatric research, study cost management, staff training, and utilization of technology-enabled platforms.
*Below is the chart that shows the impact of these above mentioned challenges with respect to CML Phases for a CRO: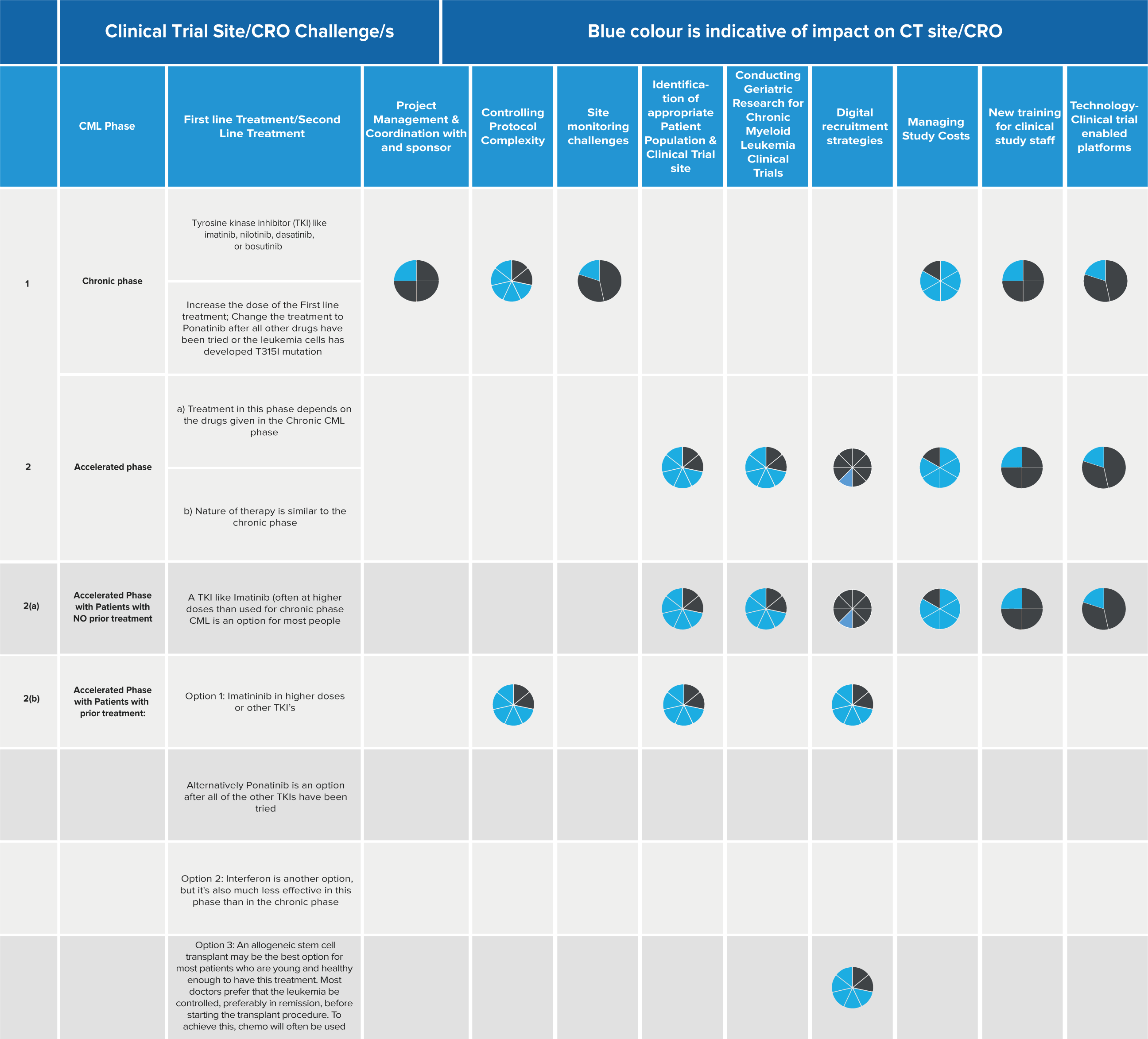 *3/4 of the graph is blue: classified as a major impact, 1/4 of the graph is blue: classified as minor impact, 1/2 of the graph is blue: classified as neutral
Veeda Oncology
In conclusion, CML clinical trials have witnessed significant progress, aided by the expertise of Indian CROs. With our proficiency in managing protocol complexities, addressing the unique requirements of the geriatric population, and optimizing costs, Veeda stands ready to accelerate your upcoming CML trial. We remain dedicated to offering exceptional support to sponsors engaged in CML research. By leveraging our extensive knowledge, sponsors can expect a seamless trial experience, adherence to regulatory requirements, and the generation of robust data. Contact us today to know more about Veeda's CML trial services.
References