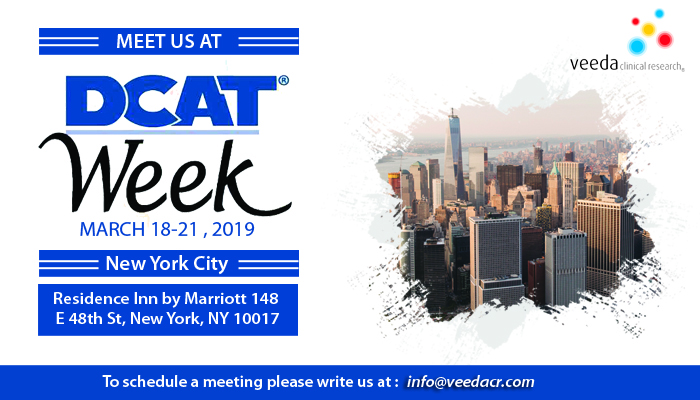 Hello,
Greetings From Veeda Clinical Research!
We are glad to inform you that Veeda Clinical Research will be attending DCAT week March 18-21, in New York City. Veeda Team is currently scheduling meetings to meet and discuss your clinical development requirements.
For the event, Veeda Clinical Reseach has reserved business meeting suite at NYC Residence Inn by Marriott at 148 E 48th St, New York, NY 10017, where our representatives and guests can discuss clinical development requirements and how Veeda can be your preferred partner.
Veeda CR is a full service CRO that conducts clinical research to support clients in their clinical programs. The company provides expert services in PK (pharmacokinetic) and PD (pharmacodynamics) studies in healthy volunteers; conducts patient trials in generic molecules and NCEs (new chemical entity) and undertakes research in Biopharmaceuticals. The company offers a fully integrated package which includes services on Phase I to Phase IV clinical trials in central nervous system, oncology, and other complex therapeutic areas. The company's services also include clinical trial management services comprising patient recruitment and retention, project management, clinical monitoring, drug safety/pharmacovigilance, medical affairs, quality assurance, and regulatory and medical writing to meet global clinical development needs. Currently Veeda is working with 10 out of top 15 pharmaceutical companies across the globe. Veeda has an exemplary regulatory track record of completing 28 USFDA, 5 ANVISA, 4 WHO, 3 MHRA, 1 AGES, 1 ANSM, 1 MCC, 12 DCGI audits successfully till date.
DCAT Week is the premier business development event for companies engaged in pharmaceutical development and manufacturing and related industries. It is organized and hosted by the Drug, Chemical & Associated Technologies Association (DCAT), a not-for-profit, member-supported, global business development association whose unique membership model integrates both innovator and generic drug manufacturers and suppliers of ingredients, development and manufacturing services, and related technologies.
To discuss your clinical development requirements & schedule a meeting with VEEDA CLINICAL RESEARCH at DCAT, contact us today at info@veedacr.com, or https://www.veedacr.com/
Thank you,

VEEDA CLINICAL RESEARCH
VEEDA CLINICAL RESEARCH PVT. LTD.
Vedant Complex, Beside YMCA club S.G. Highway,
Vejalpur, Ahmedabad- 380051,Gujarat, India
Phone: +91 79 3001 3000 Email :

info@veedacr.com
Website : https://www.veedacr.com/

This email was sent to info@veedacr.com.Click here to unsubscribe.